Fire Protection
Fire protection engineering requires a foundation in model codes and standards, as well as the ability to develop creative performance-based designs.  Therefore, BLUE's fire protection philosophy is to consider each situation as a unique design challenge, leveraging our experience but not limiting ourselves to past solutions. 
Recognizing the importance of active participation in the industry and improving codes, BLUE has consultants serving as members on the NFPA 59A technical committee and the ISA 84 working group on fire and gas detection.  Additionally, BLUE participates in research and development projects in the LNG industry.
Our project experience has given us the opportunity to work with regulators for federal, state, and local jurisdictions.  Below is a sampling of fire protection engineering services offered by BLUE.  Contact us to learn how we can improve your level of fire safety.
Fire Protection Evaluations

BLUE can perform fire protection evaluations for new or existing facilities, or help resolve isolated issues related to:
Fire and gas detection systems
Emergency shutdown philosophy
Fire alarm systems
Firewater calculations
Dry chemical and clean agent systems
Fire extinguisher specifications
Passive fire and cryogenic spill protection
High expansion foam systems
Emergency Response (Plant and External Personnel)
Fire and Gas Detection
The ISA Technical Report 84.00.07 provides a methodology for evaluating fire and gas detection systems, however, the user still needs to establish performance targets for different areas within the facility and determine which hazard scenarios should be considered during the evaluation.  BLUE can help you develop a hazard detection philosophy and layout, or review and optimize existing hazard detection layouts.
View the final report for the BLUE - DOT PHMSA research project 'Develop a Risk-Based Approach and Criteria for Hazard Detection Layouts at LNG Facilities' here.
Fire Water System Design
BLUE recommends that the fire protection design be developed in parallel with the Fire Protection Evaluation required by NFPA 59A. This design should include hydraulic calculations to determine the size of the fire main, fire pump, and fire water storage tanks. BLUE conducts hydraulic calculations using the PIPENET software and develops fire water layout drawings and P&IDs to show the locations of fire water distribution piping, post indicator valves, hydrants, monitors, and water spray systems (as applicable).
Emergency Response Planning and Coordination
BLUE can develop new Emergency Response Plans, or review and edit existing Emergency Response Plans to make them compliant with applicable regulations for your facility. We also can use our modeling software to help create evacuation plans.  BLUE can facilitate the training needed to carry out emergency response duties as required by 49 CFR Part 193.
Fire and Explosion Risk Assessments
BLUE has extensive experience in the analysis of hydrocarbon pool and jet fires, atmospheric vapor cloud dispersion, deflagrations (and deflagration venting for enclosures), BLEVEs, and toxic gas releases.  With 2D and 3D hazard modeling capabilities in-house, BLUE is equipped to prepare fire and explosion risk assessments for regulators or internal risk studies.
Advanced Fire Modeling
The first step in establishing the need for a fire mitigation system is an accurate assessment of the hazards present.  In many cases, detailed fire modeling is critical for determining heat loads to equipment and occupied areas.  BLUE utilizes Computational Fluid Dynamics (CFD) programs such as Kameleon FireEx (KFX) and Fire Dynamics Simulator (FDS) to assess the impact of fire hazards and evaluate the effectiveness of passive and active mitigation systems.
FDS Pool Fire Modeling Sample: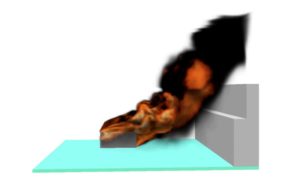 KFX Pool Fire Modeling Sample: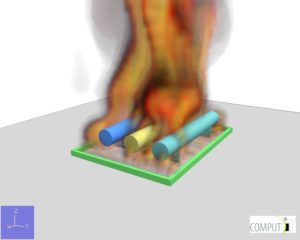 KFX Jet Fire Modeling Sample: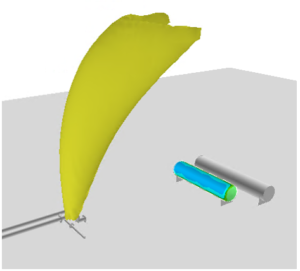 FLACS Deflagration Venting Sample: